Scalable GPU Graph Traversal
Scalable GPU Graph Traversal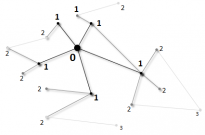 Breadth-first search (BFS) is a core primitive for graph traversal and a basis for many higher-level graph analysis algorithms. It is also representative of a class of parallel computations whose memory accesses and work distribution are both irregular and data-dependent. Recent work has demonstrated the plausibility of GPU sparse graph traversal, but has tended to focus on asymptotically inefficient algorithms that perform poorly on graphs with non-trivial diameter.
We present a BFS parallelization focused on fine-grained task management constructed from efficient prefix sum that achieves an asymptotically optimal O(|V|+|E|) work complexity. Our implementation delivers excellent performance on diverse graphs, achieving traversal rates in excess of 3.3 billion and 8.3 billion traversed edges per second using single and quad-GPU configurations, respectively. This level of performance is several times faster than state-of-the-art implementations both CPU and GPU platforms.
Copyright
Copyright by the Association for Computing Machinery, Inc. Permission to make digital or hard copies of part or all of this work for personal or classroom use is granted without fee provided that copies are not made or distributed for profit or commercial advantage and that copies bear this notice and the full citation on the first page. Copyrights for components of this work owned by others than ACM must be honored. Abstracting with credit is permitted. To copy otherwise, to republish, to post on servers, or to redistribute to lists, requires prior specific permission and/or a fee. Request permissions from Publications Dept, ACM Inc., fax +1 (212) 869-0481, or permissions@acm.org. The definitive version of this paper can be found at ACM's Digital Library http://www.acm.org/dl/.