From RTL to CUDA: A GPU Acceleration Flow for RTL Simulation with Batch Stimulus
From RTL to CUDA: A GPU Acceleration Flow for RTL Simulation with Batch Stimulus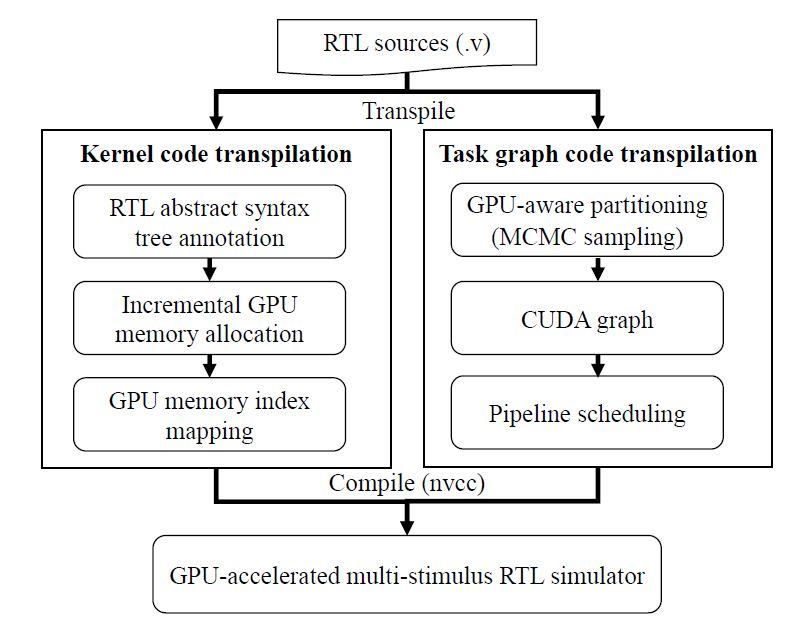 High-throughput RTL simulation is critical for verifying today's highly complex SoCs. Recent research has explored accelerating RTL simulation by leveraging event-driven approaches or partitioning heuristics to speed up simulation on a single stimulus. To further accelerate throughput performance, industry-quality functional verification signoff must explore running multiple stimulus (i.e., batch stimulus) simultaneously, either with directed tests or random inputs. In this paper, we propose RTLFlow, a GPU-accelerated RTL simulation flow with batch stimulus. RTLflow first transpiles RTL into CUDA kernels that each simulates a partition of the RTL simultaneously across multiple stimulus. It also leverages CUDA Graph
and pipeline scheduling for efficient runtime execution. Measuring experimental results on a large industrial design (NVDLA) with 65536 stimulus, we show that RTLflow running on a single A6000 GPU can achieve a 40× runtime speed-up when compared to an 80-thread multi-core CPU baseline.
Copyright
Copyright by the Association for Computing Machinery, Inc. Permission to make digital or hard copies of part or all of this work for personal or classroom use is granted without fee provided that copies are not made or distributed for profit or commercial advantage and that copies bear this notice and the full citation on the first page. Copyrights for components of this work owned by others than ACM must be honored. Abstracting with credit is permitted. To copy otherwise, to republish, to post on servers, or to redistribute to lists, requires prior specific permission and/or a fee. Request permissions from Publications Dept, ACM Inc., fax +1 (212) 869-0481, or permissions@acm.org. The definitive version of this paper can be found at ACM's Digital Library http://www.acm.org/dl/.